As a group travel organiser I travel with women who carry different gadgets: mobile phones & camera's to capture our memories. Inevitably one of our ladies or myself have a gadget that runs out of power. Whether we're traveling, commuting, or simply spending a day out, it's crucial to have a reliable power source to keep our devices charged and ready for use.
In February 2023 whilst browsing on Amazon I came across this Charmast 4 in one power bank https://amzn.to/448yRzQ (#ad) with all these amazing features which seemed too good to be true. I have previous bought data banks that could not charge for long, were bulky and had a single outlet. So this time after reading a lot of good review about the product I decided to purchase one myself. I have purposely chose to use the power bank for a couple of months before reviewing just to be sure it stands the test of time. Having used this now for 4 months taken it on 3 trips, had 4 phones charging on this device at one time: I agree this Charmast 4 power bank is a must have travel gadget. I use this power bank on my travels and in the home to charge my gadgets and also power my little desk fan at times.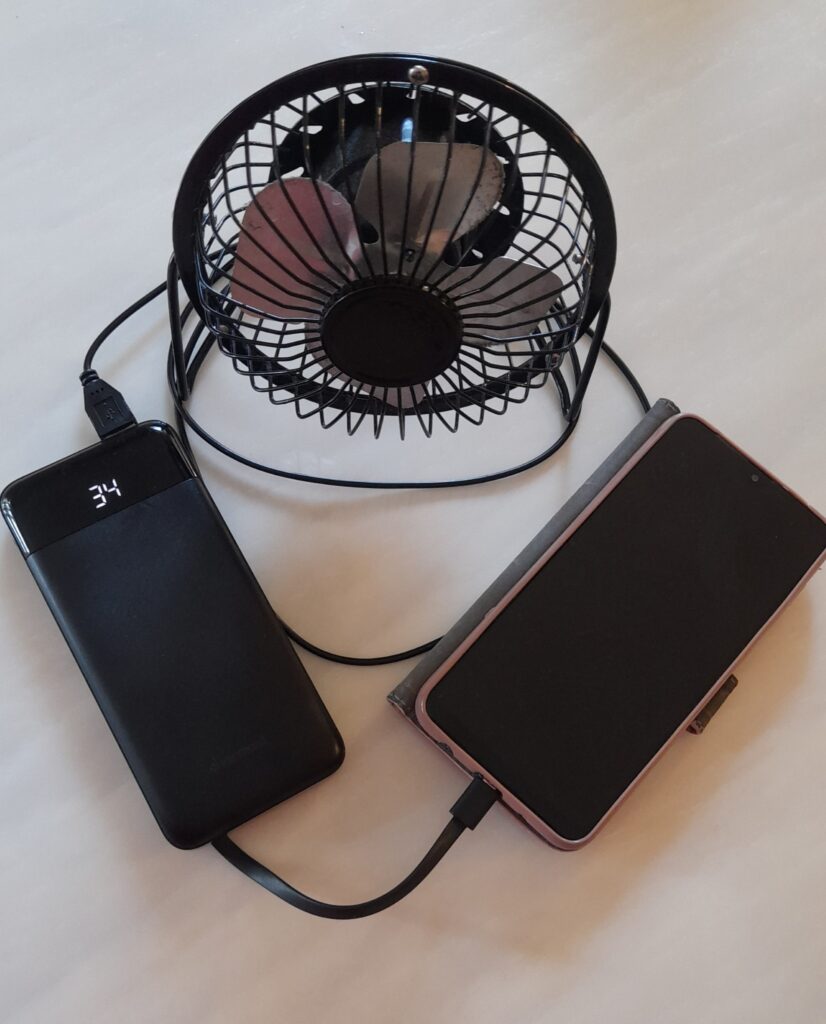 Why I love this power bank.
No 1. Its Convenient. One of the standout features of the Charmast Power Bank is its built-in cables. With four integrated cables, including Lightning, Micro USB, USB-C, and a standard USB cable, you can bid farewell to carrying multiple charging cables. Whether you're an Android or iOS user, this power bank has got you covered. The cables are cleverly designed to be tangle-free and easily accessible, saving you from the frustration of tangled cords while ensuring quick and hassle-free charging.
One of the best attributes for me is I can charge the databank in the car at the same time as charging my device a big win win.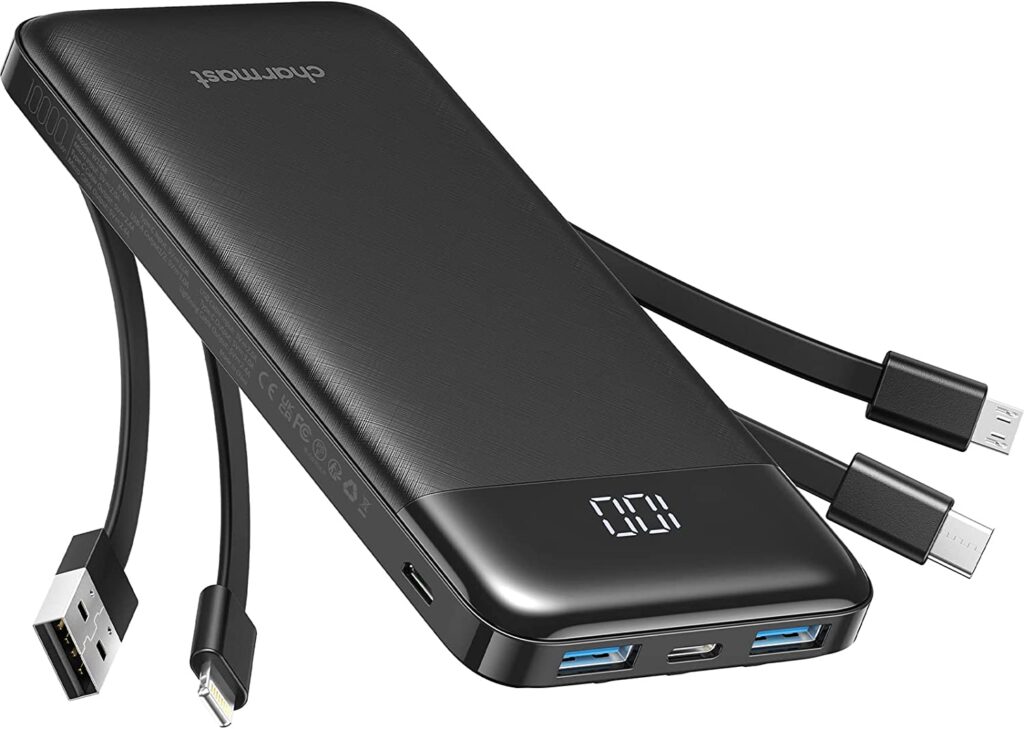 No 2. Multiple Charging:The power bank has a timer display and delivers ample power to charge your devices multiple times before needing a recharge itself. For the techy people this has 10000mAh USB C Battery pack wow that a lot enough to charge your iPhone 11, 2 times, iPhone 11 Pro, 2 times, Samsung phones 2 times, iPhone 11 Pro Max 2 times, Huawei P20 2 times and many more.
No 3. Fast Charging Technology and C harges multiple devices simultaneously: Say good bye to long hours spent waiting for your databank to charge, it does have a pretty fast charge capacity and this speed has not changed from when I used this from new, in our fast-paced lives, every minute counts.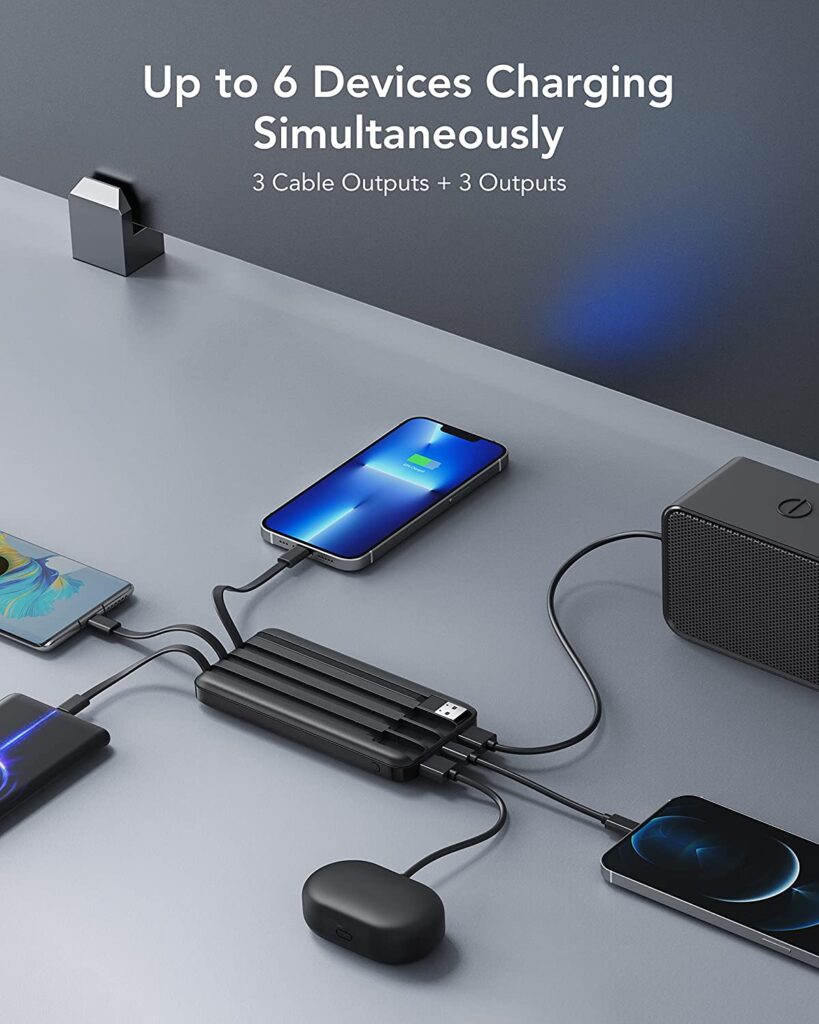 No 4: Travel-Friendly Design: They really designed this with portability in mind, the Charmast Power Bank is compact and lightweight. easily slips into your bag, backpack, or even your pocket, and carry it wherever you go. Its sleek and sturdy construction ensures durability, making it the perfect companion for all your adventures. Whether you're hiking, camping, or simply commuting, this power bank is your reliable power source. Its a similar size to most mobile phones or same size as my samsung S20.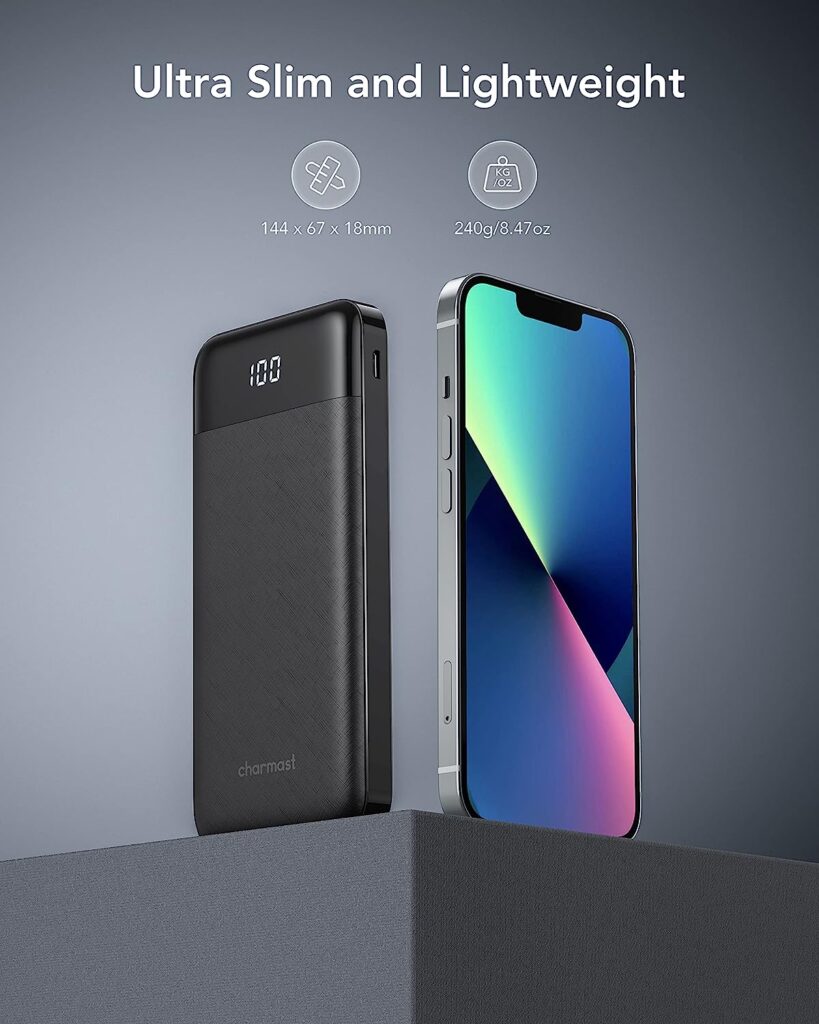 No 5: Safety First: When it comes to charging any devices, safety is paramount. The Charmast Power Bank incorporates advanced safety features to protect both your devices and the power bank itself. It guards against overcharging, overcurrent, and short circuits, ensuring a worry-free charging experience.
My Conclusion:
In my opinion this is now my favourite travel must have gadget. It provides a convenient and reliable power solution for our on-the-go shared lifestyle, whilst saying goodbye to the frustration of tangled cables and the anxiety of a dying battery. I have now purchased more power banks to share with my group members on our travels to ensure we stay connected and keep capturing those memorable life moments.
You can purchase your very own power bank on amazon and i have linked this model below. If you purchase one please do come back and share your review /coment on how this worked for you.
https://ws-eu.amazon-adsystem.com/widgets/q?ServiceVersion=20070822&OneJS=1&Oration=GetAdHtml&MarketPlace=GB&source=ss&ref=as_ss_li_til&ad_type=product_link&tracking_id=msbeegrouptra-21&language=en_GB&marketplace=amazon&region=GB&placement=B09WHPDB6C&asins=B09WHPDB6C&linkId=3cc5179ba2c0007ec5d0b0ed579be515&show_border=true&link_opens_in_new_window=true