Date Flown: 29.3.19
Boeing 737- 800, 189 seats
Luton Airport to Athens
Prior:
Trying to navigate the luggage and extra's on the website is like trying to avoid a dodgy salesman, something always popping up trying to get you to buy something, worded like you desperately need it and lacking clear clarity. Note here the extras we paid on trip cost more than the actual flight price.
Check-in:
Speedy no hassles one party is a priority the other party non-priority so we got to check in a bag this was speedy and hassle-free. We followed the bag rules to the T……I had my tape measure out last night cause I have heard horror stories online about this airline and I was a little bit worried about my Mk Jetsetter bag but hey ho no hassles there perhaps it was my killer smile
Departure:
Asked for seat belt extension onboarding/ before sitting (don't like being uncomfortable still trying to loose my baby tummy ) any way they had these on the ready at front – very convenient. Today no Champagne breakfast chose seats near the front but not pay those exorbitant first 5 rows fees, used that money for my duty-free purchases.
We had chosen isle seats 12C & 12D coincidentally a positive to seat 12D luggage hold on this type of aircraft is where the emergency equipment, mask & first aid kit is kept. The downside is this equipment does take space so you may have to use another luggage bin not directly above your seats.
Pleasantly surprising is the seats on this type are generous and being plus size over 100kilos plus (not yet at summer bod) I had enough body wriggle room, ample leg room and could even get the tray table down to my lap without a deep breath (Big girl problems ), 5 thumbs up on the seating from me. (British Airways take note)

Take off on-time as per schedule uneventful very smooth didn't even feel the wheels leave the ground.

One thing I will mark down on this aircraft is the toilet size. This has to be the smallest aircraft toilet I have ever been in, I've been on enough planes to tell the difference. I am well aware that I am plus size but you cannot swing a cat or even cop a squat in there. This was the front toilet not sure if the 2 back toilets were any better didn't venture that far. The toilet, however, was clean with soap, water, toilet tissue – basic amenities.

Staff was very polite, courteous and all big smiles. I was up 50% of the flight to keep my body moving, wriggling my legs and even spent a good 30 minutes at the front of the plane reading my book upright. Did ask the 4 crew a lot of questions who were knowledgeable, they failed one question I asked how much leg room on these seats 2 of them couldn't answer but said would get back to me -they never did.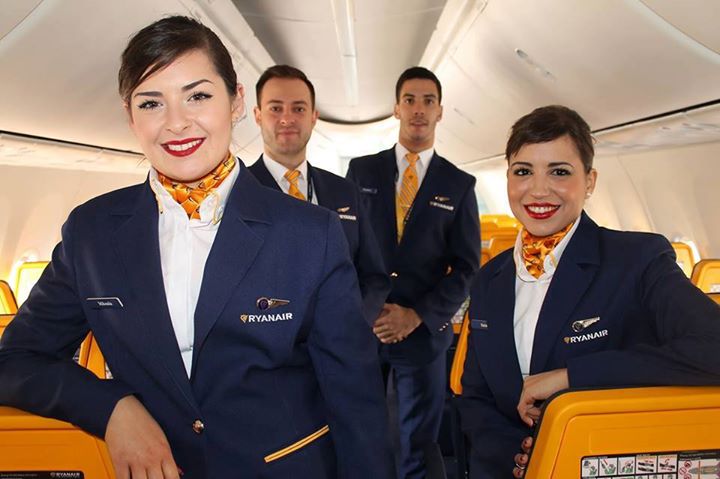 Food:
Did not buy any had my boots sandwich, water for hydration and snack all 3 for £3.99 not the £10 meal deals on Ryanair. I did, however, peruse the Ryanair magazine seeing as they had an extra 20% off their duty-free fragrances. Item purchased 1 Million by Paco Robane, love it it was a steal for 50ml and they even do testers too. Also bought a Ryanair scratch card more to support their charity, didn't win anything and am yet to hear of anyone ever winning big to date.

Passengers on this flight were decent, unlike my Ibiza flight last November 3 there were 3 hen parties one stag doo off-key singing from take off to landing.
Landing:
So let me explain here that our crazy host sent us the below message morning of departure

"It's very windy today your landing is going to be eventful."

EVENTFUL is the light version of our actual landing, Try roller coaster or if you have ever been in a boat, on the sea, on a windy day and the tide is high, boat rocking side to side – now picture this on a plane. Decent into Athens is from the sea onto land so on our shaky turbulence decent I had a private conversation with God and from the looks of the other passengers faces it looks like I was not the only one. Literally, this plane shook for like 10-15 minutes all through to landing.
Big well done to the pilot/s brought us down from the roller coaster flight, whew EVENTFUL that wind force I swear we landed sideways but safely.
Generally not bad at all for low cost I give them a 7/10.